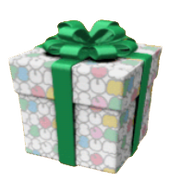 Happiness Boxes are cheap Boxes that contain one of only fourteen Tsum Tsums. A Happiness Box costs 10,000 Coins or one Happiness Ticket. Happiness Tsums are normally not as powerful or as valuable as Premium Tsums. Despite their lower value, it is nevertheless recommended that players try to get all of these Tsums in their collection as soon as possible, as missing Tsums that appear during games will have their score levels locked at one.
The box itself appears covered in white wrapping with the words "Tsum Tsum" on it and has a teal bow.
Only three series are represented in Happiness Boxes: Mickey & Friends, Chip 'n Dale, and Winnie the Pooh.
Trending pages
All items (15)